Brilliant! This is what I love to see – pro-lifers embracing new technology and using it to help save lives.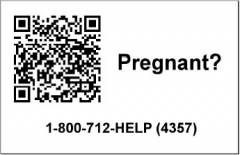 The tech-savvy folks at Cleveland Right to Life (CRtL) have developed a QR Code that can be put on business cards and other literature they give out to women considering abortion and, when scanned using a smart phone, will provide a three-minute video that shows 3D and 4D ultrasound images of a developing child from 8 to 34 weeks.
"Imagine sitting in the waiting room of an abortion clinic and being able to see 3D and 4D ultrasound images of an unborn child through literature provided by a sidewalk counselor," said Molly Smith, president of Cleveland Right to Life. "Statistics show that many women considering an abortion who see an ultrasound choose life."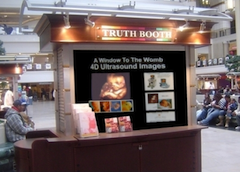 The video that plays is the same one available through CRtL's educational program Truth Booth International. The Truth Booth is an unmanned kiosk that shows ultrasound images of the child in the womb in public venues throughout the United States and Canada. These awesome people have made the QR code image available for free downloading. The QR code can be printed on the back of business cards or on any counseling literature.
What an awesome new tool for sidewalk counselors! Good for CRtL for picking up on this growing tech trend that I've noticed being used by more and more businesses.
Click here to view the video online.
Click here to download the QR code for your pro-life literature.