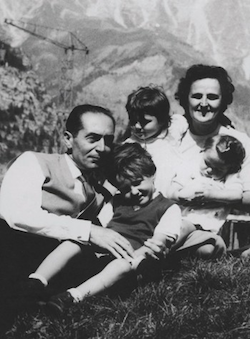 Today is the feast of two of my very favorite saints. First, St. Gianna Molla, who sacrificed her own life to give birth to her forth child, Gianna Emanuela. Today also marks the 50th anniversary of her death. Her example of total self giving and abandonment to Divine Providence as well as the great love between her and her husband Pietro is needed in the world today like never before.
"Sacrifice: the final end of prayer and action is not to receive praise or self advantage but to busy oneself, as did Jesus, with the total giving of oneself for others at the cost of renunciation and suffering, in the impassionate competition of love which arrives at the sacrificing of one's own life."
St Gianna Molla, pray for us! Pray for all mothers and their unborn children.
Beg from God the grace for us all to build a culture of life. Amen!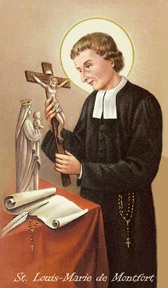 Today is also the feast of St. Louis Marie De Montfort, who literally wrote the book on proper Marian devotion. I cannot even begin to explain the impact his writing has had on my spiritual life.
"Would that everyone might know I should already be damned were it not for Mary!"
~St. Louis Marie DeMontfort, pray for us!
See my post: Totus Tuus for more on De Montfort and devotion to Our Lady who, I'm convinced, is the reason I'm still alive today.
Other posts:
My Morning Meditation With St. Gianna
No Greater Love
St. Gianna on Suffering
R.I.P. Pietro Molla