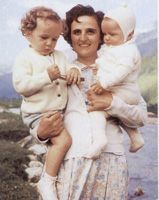 Quotes from Saint Gianna Molla who gave up her own life so that he unborn child would live:
To Pietro, her husband, as she was dying in the hospital:
Pietro, I am cured now. Pietro, I was already over there and do you know what I saw? Some day I will tell you. But because we were so happy, we were too comfortable with our marvelous babies, full of health and grace, with all the blessings of heaven, they sent me down here, to suffer still, because it is not right to come to our Lord without enough suffering.
On fulfilling her duty as mother:
Yes I have prayed so much in these days. With faith and hope I have entrusted myself to the Lord…I trust in God, yes; but now it is time for me to fulfill my duty as a mother. I renew to the Lord the offer of my life. I am ready for everything, to save my baby
More:
Sacrifice: the final end of prayer and action is not to receive praise or self advantage but to busy oneself, as did Jesus, with the total giving of oneself for others at the cost of renunciation and suffering, in the impassionate competition of love which arrives at the sacrificing of one's own life.

One cannot love without suffering or suffer without loving

Also in suffering let's say: Thanks be to God

If during the struggles to carry out our vocation, we should have to die, that would be the most beautiful day of our life.