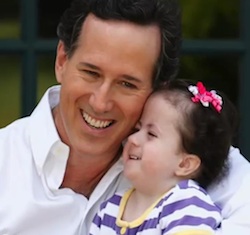 Good news! On a tele-town hall last night from his daughter's hospital room, Rick Santorum told Florida voters, "She's had a miraculous turnaround. We have a long way to go, but she turned the corner and we are very, very grateful."
Bella was diagnosed with pneumonia in both lungs, a devastating illness for anyone, but especially for a small child with Trisomy 18. On another call with voters in Minnesota he said that he was "feeling pretty pumped" that her condition has been improving and she is no longer in the "very dangerous" situation she was in over the weekend.
If you have some time, please read an article Santorum wrote on the occasion of Bella's second birthday two years ago: Two Years Worth Every Tear
While most children with Trisomy 18 don't live to see their first birthday after they're born, it is a treatable disease and, like Bella, children who have it can live for several years. Sadly, increasing numbers of physicians are advising, demanding, and even coercing women to abort babies after a "poor prenatal diagnosis" for Trisomy 18 – never offering them even a chance at treatment.
'Incompatible with Life' is a judgment not a diagnosis and parents should never be pressured into killing their child because someone else thinks her life is not worth living.