Alright, this is a nice contrast to the freaking weird story I posted earlier about a virgin who is the father of 14 children via sperm donation.
Katie Davis is the mother of 14 Ugandan orphans…and she's only 23!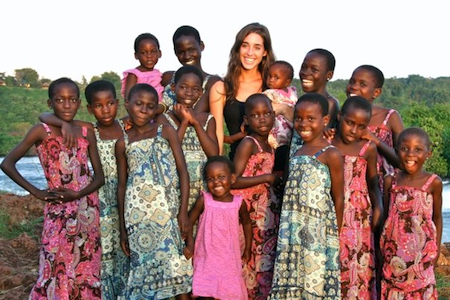 After high school, Katie left home to do a year long mission trip to Uganda before college. Now she lives there full time with her 14 daughters and runs Amazima Ministries to help other poor children there.
Listen to Katie talk about adoption as a "redemptive response to tragedy":
I'm still not entirely sure how I feel about single parent adoption, but it's impossible not to be inspired by Katie's extraordinary witness! If nothing else, at least these 14 young girls who once had no one to love and care for them, now have a woman whom they can call their mother and who, no doubt, teaches them everyday about their Father God who created their inmost being loves them eternally.
I say this is a nice contrast to my earlier post because, while adoption is making the best of less than ideal circumstances, third party reproduction intentionally puts children in a confusing (at best) situation. This story also just makes me feel a little bit better about the world after learning about such bizarreness.
Read her book: Kisses from Katie
For another inspiring adoption story a little closer to home, please read: The Clarity of Clare.