If you have some time today between now and 5:00 pm, tune in to the First Annual Conference on Medical Advances in Prenatal Diagnosis by the the Council on Poor Prenatal Diagnoses and Therapeutic Interventions. Click here for the live feed.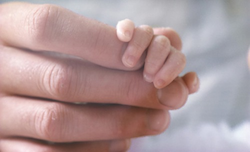 The conference, which is the brainchild of Dr. Gerard Nadal and a collaboration between Med Students for Life, Family Research Council, the Archdiocese of Washington and Leticia Velasquez, who co-founded KIDS (Keep Infants with Down Syndrome), a working group formed around the idea of having a full day medical conference for medical professionals and the public alike, brings together professionals from many different specialty areas, including genetic researchers, ob/gyn physicians, developmental pediatricians, hospital nursing staff, medical genetic counselors and medical students. Their goals are to:
-affirm the life and dignity of all persons, especially those diagnosed prenatally with a disability or lethal condition
-review how information about prenatal diagnoses of disability or lethal condition is currently delivered
-consider how this information might be delivered more comprehensively
-consider the impact of a new blood test for Down syndrome in obstetric care
-explain the work of the Council and its year-long engagement on prenatal diagnosis issues
-review best practices for postnatal care of infants with disabilities in perinatal hospice and in hospital, home and medical daycare settings
Increasing numbers of physicians are advising, demanding, and even coercing women to abort babies after a "poor prenatal diagnosis" with conditions such as Down Syndrome, Trisomy 18, Trisomy 13, Anencephaly, Spina Bifida, etc… Upwards of 90% of the children prenatally diagnosed with some of these conditions are killed in the womb and many health professionals consider this "progress" in eradicating disease.
Oh, they're eradicating something, alright, but it 'aint disease – it's people!
Please tune in and support the Council on Poor Prenatal Diagnoses and Therapeutic Interventions as they kick off A Year of Hope and Healing, which will see more conferences and coordinated activity in bringing to the fore the many support and advocacy groups, more physicians, scientists, and ethicists. And please remember: Prenatal Genetic Testing is Not the Problem: Abortion Is!
I really wish this was getting more attention from pro-lifers…but I understand it's a busy pro-life weekend.