This has been all over the pro-life interwebs this week, so you've probably seen it already. But if by chance you have not yet read about the little girl with Down syndrome who has become the 'darling' of the child modeling world in the UK, you'll want to read this now. It's easily the most wonderful story you will read all week: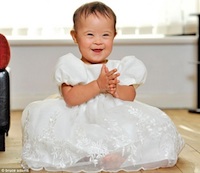 When Gemma Andre submitted photos of her young daughter, Taya, to a UK modeling agency at the urging of a family member, she didn't say anything about the fact that Taya was born with Down syndrome.

"No one asked the question, 'Is your child disabled?' So I didn't mention it," Gemma told the Daily Mail recently.

Even after the ad agency, Urban Angels, phoned Andre and told her that Taya had made the first cut, and they would like to meet her personally, Gemma stayed mum on her daughter's condition.

"I didn't want her to be chosen as the token disabled child. If she was going to be picked, then it had to be on her own merit," she says.

It turns out that Gemma didn't have to be worried: after going in for a photo shoot with Urban Angels, Taya was chosen as one of the few lucky child models for the agency.

"When the agency rang me and said, 'We want her on our books. She's absolutely beautiful', I was delighted," says Gemma.

"I asked them if they were aware she had Down's Syndrome. They said: 'It's immaterial. We've accepted her.'" At that moment, says Gemma, she burst into tears.
The sad fact is that people with Down syndrome are generally not accepted by modern society and are consequently being snuffed out in the womb. May Taya's beautiful smile soften the hearts of those who think children with Down syndrome should never be born!