Hi there! So I've been taking a little bit of a blogging break, in case you haven't noticed. After the New Media Celebration I spent a wonderful, relaxing day with my cousins in Amelia Island, Florida. The weather and everything was perfect, though there were sharks in the water, and there was a shark attack there last week: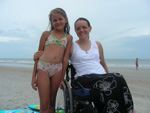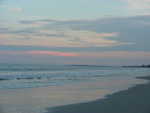 For the last couple of days I've been in Newborn Georgia hanging out with the same cousins, my aunt and uncle and my grandparents. I'm staying later than I planned because one of my cousins is getting confirmed today. I will be heading back to mid-Missouri tomorrow morning and hopefully by late Monday or Tuesday I will resume blogging as usual.
Here is a pic from the Catholic New Media Celebration of bloggers Amy Welborn, Mark Shea and the Curt Jester discussing blogging and the new evangelization: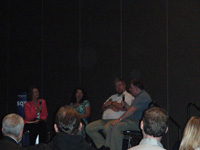 For more on the CNMC visit Mark's post. Rebecca at Catholic in Film school has, and will have more, video from the event. Also, Jen, from Et Tu?, who wasn't able to make it to the event, wrote an article that corresponds with it nicely: Google and Ye Shall Find: The Internet and the New Evangelization.