Dear readers – I'm excited to let you know that I've been asked to be an associate editor over at CatholicLane.com. I'll be in charge of their Pro-Life and Catholic Bioethics sections. I started this week and I think I'm getting the hang of it. It's mostly behind the scenes work, publishing other people's stuff, though I will certainly be doing some writing there myself (you can read my stuff here). Catholic Lane is an excellent new website featuring many great writers and resources for Catholics. I'm really excited, nervous and grateful for this opportunity! I hope I do the site justice.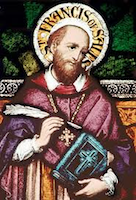 Don't worry, I still plan on keeping the Reflections of a Paralytic blog monster well fed. I've also been contributing to LifeNews.com a little bit lately and will be continuing that as well as try to contribute to Virtuous Planet once a month and keep up with the work I do for my parents and Missouri Right to Life. It's actually not as much work as it sounds like. At least, it shouldn't be. But I'm am not always the most organized/focused person in the world, so you're prayers would be much appreciated!! I believe St. Francis de Sales is the patron saint of journalists/writers/editors…
Thanks for all your support. I love you all!