A culture of life is a culture of love. That means loving everyone without exception – even our worst enemies. Yesterday's Gospel reading:
"You have heard that it was said, 'You shall love your neighbor and hate your enemy.' But I say to you, love your enemies, and pray for those who persecute you, that you may be children of your heavenly Father, for he makes his sun rise on the bad and the good, and causes rain to fall on the just and the unjust. For if you love those who love you, what recompense will you have? Do not the tax collectors do the same? And if you greet your brothers only, what is unusual about that? Do not the pagans do the same? So be perfect, just as your heavenly Father is perfect. (Mt. 5:43-48)
During a homily on this passage last year a priest here offered some great words about loving our enemy. First he pointed out that love is not a feeling, it is a decision – it is not an act of emotion but an act of the will. We don't have to feel good about our enemies, we don't have to like them, per se, but we should always will them good.
Next he reminded us that we love our enemies not because we excuse or approve of their evil deeds or offenses against us, but because of what they can become. Even our enemies can become saints and we should never give up on them. We see this especially in the example of St. Stephen and St. Paul. As St. Stephen was being stoned to death, under the supervision of St. Paul (Saul, at the time), he cried out with love for his persecutors, "Lord, do not hold this sin against them" (Acts 7:60). Later we know that Saul was converted and became a great preacher and example of the Gospel.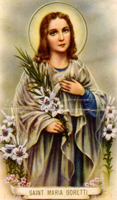 We don't even have to go back that far to find great examples of love and forgiveness. In the late 19th early 20th century there lived a young Italian girl, Maria Goretti. When she was dying in the hospital after being stabbed by a family friend who wished to rape her she was asked if she forgave her murderer. Young Maria, at 12 yrs. old, replied:
"Yes! Yes! For the love of Jesus, I forgive him, and I want him to be with me one day in heaven!"
Is this not essentially what our Lord said to the repentant thief beside Him on the Cross? Maria's forgiveness changed this man's life forever. After seeing a vision of her in his prison cell he converted and, when released, took up residence in a Capuchin monastery and worked in its garden until the day he died.
It was not only Maria, but also her mother who had mercy on this murderer. After getting out of jail, Alessandro fled to Assunta's arms begging her forgiveness, which she readily gave him. The two even attended Christmas Mass together, receiving communion side by side.
Nine years before his death, Alessandro Serenelli wrote a brief testimony in which he said:
When I was 20 years-old, I committed a crime of passion. Now, that memory represents something horrible for me. Maria Goretti, now a Saint, was my good Angel, sent to me through Providence to guide and save me. I still have impressed upon my heart her words of rebuke and of pardon. She prayed for me, she interceded for her murderer. Thirty years of prison followed.

If I had been of age, I would have spent all my life in prison. I accepted to be condemned because it was my own fault.

Little Maria was really my light, my protectress; with her help, I behaved well during the 27 years of prison and tried to live honestly when I was again accepted among the members of society. The Brothers of St. Francis, Capuchins from Marche, welcomed me with angelic charity into their monastery as a brother, not as a servant. I've been living with their community for 24 years, and now I am serenely waiting to witness the vision of God, to hug my loved ones again, and to be next to my Guardian Angel and her dear mother, Assunta.
This is why we love and forgive our enemies – as children of a loving God, everyone has the potential to become a saint, which we should always support and encourage even if they do not show signs of being open to this grace. We should not mistake this to mean that we withhold proper justice. But justice must always be served with mercy and in accordance with the dignity of the human being.
Ask Jesus to grant you a Love like a purifying furnace, where your poor flesh – your poor heart – may be consumed and cleansed of all earthly miseries. Pray that it may be emptied of self and filled with Him. Ask Him to grant you a deep-seated aversion to all that is worldly so that you may be sustained only by Love"
~St. Josemaria Escriva, The Furrow n. 814
Be perfect, just as your heavenly Father is perfect!
More recent examples of love and forgiveness: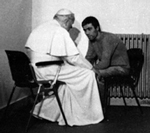 -JPII's visit to Mehmet Ali Agca's jail cell after he attempted to kill the late pontiff
-A Somalian nun offering forgiveness to her killers in her dying breaths
-A Pennsylvanian Amish community forgiving the man who held a number of Amish schoolgirls hostage, killing 5
These stories show us that forgiveness is possible if we open our hearts to compassion. Compassion, rooted in prayer, allows us to see others in the light of Christ – to realize that "the God who loves you unconditionally loves all of your fellow human beings" without exception (Henri Nouwen). This means that everyone, even the most hardened criminal, is worthy of our love and forgiveness, even if they do not accept it.