Hello, all! Sorry posting has been pretty light for the last few days. I do have a few works in progress.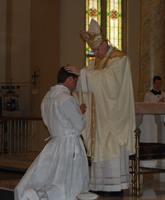 A good friend of mine was ordained a deacon last weekend for the diocese of Kansas City-St. Joseph, Missouri. Through this sacrament Angelo, and the two others ordained with him, pledged to live his life totally committed to serving Christ and His Church. He will be ordained a priest this December. Please keep him, his brother Matt, who is a seminarian in Rome, and all of our seminarians, priests and transitional deacons in your prayers everyday!
If we are to reclaim the truth and meaning of human sexuality, it is important to understand that most mysterious call to Christian celibacy – those men and women who have made themselves eunuchs "for the sake of the Kingdom of Heaven" (Mt. 19:12).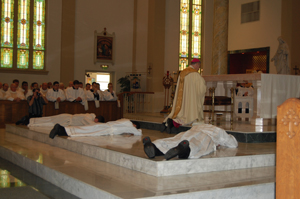 This is something that our sex obsessed culture simply cannot comprehend (they don't really understand the sacredness of the marriage covenant either, but at least married people get to have sex, right?). Far from being a denial or a rejection of one's sexuality, the celibate vocation is a living out of the deepest meaning of human sexuality, which is union with Christ and His church. As beautiful and holy as marriage and the marital act really is, it is only a symbol, a foretaste of something greater that awaits us:
"For this reason a man shall leave (his) father and (his) mother and be joined to his wife, and the two shall become one flesh."

This is a great mystery, but I speak in reference to Christ and the church. (Eph. 5:31-32)
What is this mystery? The image used more than any other in Scripture to describe God's love for His people is that of a bridegroom for his bride. The Song of Songs is an erotic love poem that is also an analogy of God's love for His people, Psalm 45 is a song for a royal wedding, the Bible begins and ends with marriages – Adam and Eve in Genesis and Christ and the Church in Revelation. Through this spousal analogy we see that God's eternal plan is to "marry" us – all of us!
I will espouse you in fidelity, and you shall know the LORD. (Hos. 2:19)
Marriage is a sort of rocket booster meant to shoot us into heaven. Celibates proclaim to the world that this heaven is real.
Here I am at the reception with the overjoyed future Father Bartulica:

If you are interested I also have a Flickr account with more pictures from the ordination.
For a glimpse into the lives of some of these great "eunuchs for the Kingdom" check out these blogs by priests and religious:
Bonfire of the Vanities
Fr. Joe
Orthometer
Moniales, OP ~ Dominican Nuns – one sister just celebrated her 50th anniversary
Nun Blog
And you can find so many many more here and here.
Previous posts:
Called to Serve
Pray for Priests
Fr. Korte (my spiritual director) Celebrates Silver Jubilie