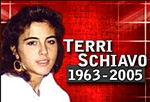 Yesterday marked the third anniversary of the day Terri Schiavo was starved to death for having a life not worthy of living. I was pretty devastated that things turned out the way they did, but the whole thing gave me a renewed zeal – especially as a disabled person – to continue to make the most of my life and to show others that all life, even a life of suffering, is worth living.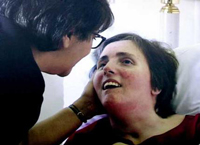 Sadly I think that it may not have had the same effect on others who may not have seen the starvation and dehydration of an innocent young woman, but only an ugly battle between family members over the treatment of their wife, daughter and sister. In the wake of Terri's death I heard many people say that they want to make it perfectly clear their intention to have their own feeding tube removed if they were ever in the same situation in order to avoid the conflict that erupted between the Schindler/Schiavo families. And because they would not want to be a burden on their families. This is the anti-life mentality of our culture, it is better to be dead than to live a life of hardship and suffering and it is better to bury a family member than to take the time to love and care for them.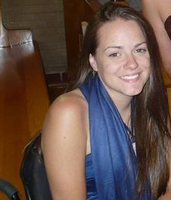 Terri Schiavo was not in a coma and was not in a brain dead or "persistent vegetative state". Terri was a severely handicapped young woman who suffered a life altering, not life ending, brain injury. Because of that many in our society, including her husband, concluded that Terri's life was no longer worthy of being lived, though she was, in fact, "living". This is the sentiment that is behind the push for euthanasia and the abortion of "unhealthy" unborn children. Believe it or not, this tends to be the mentality of those who advocate the destruction of embryos for scientific research in order to find a cure at all cost – the idea that the handicapped, like myself, are somehow incomplete because of their various physical or mental limitations and that only a scientific cure can give them any hope for a happy, normal life. Disabled people themselves buy into this, lending their voices and faces to the hyper sensationalized campaigns for this life destroying research, fueling the belief that our lives are lacking in quality.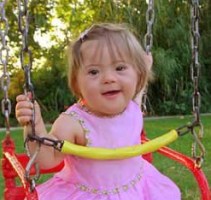 I think that the best way we can learn from this tragedy and truly honor the memory of Terri Schiavo is to love the life that God has given to us, to keep living it despite the many setbacks and sufferings we endure – and to care for and "suffer-with" the suffering members of our society. We must promote a culture of life, especially among the weak and disabled. This is becoming more crucial as more cases like Terri's pop up around our country. As human beings our intrinsic value is based on the fact that we are made in the image and likeness of a Divine Creator (and the fact that our Creator humbled Himself to share in our humanity), not on our functional abilities. Life should be cherished as an invaluable gift from God. Because of the passion and death of His Son, even our sufferings have meaning and His Resurrection brings us the hope of eternal life, when every tear will be wiped away and mourning, crying and pain will be no more (Rev. 21: 3-4).
The true measure of humanity is essentially determined in relationship to suffering and to the sufferer. This holds true both for the individual and for society. A society unable to accept its suffering members and incapable of helping to share their suffering and to bear it inwardly through "com-passion" is a cruel and inhuman society. Yet society cannot accept its suffering members and support them in their trials unless individuals are capable of doing so themselves; moreover, the individual cannot accept another's suffering unless he personally is able to find meaning in suffering, a path of purification and growth in maturity, a journey of hope. (Spe Salvi, n. 38)
Terri Schindler Schiavo Foundation
False Compassion an article by Bobby Schindler about other notable "food and fluids cases".
The Will to Live

Previous Posts