For just a few years now there has been a peaceful 40 Days for Life presence outside the Planned Parenthood abortion facility in Columbia, MO. Since these vigils have been going on PP has had a hard time keeping an abortionist on staff and have gone extended periods of time without committing abortions. They are currently without an abortionist and no abortions have been committed in the facility for eight weeks now, praise God!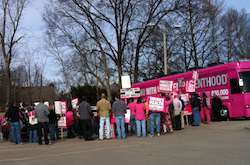 There's no doubt Planned Parenthood hates losing abortion services at any of their facilities, so I'm sure that's why this particular PP was the focus of one of their big, ugly pink bus rallies. Of course, the word abortion was glaringly omitted from the bus, signs, t-shirts and I think even the entire rally (which I didn't quite hear all of). That is because these rallies are about gaining momentum to counter pro-lifers' campaign to defund Planned Parenthood and touting the other, seemingly non-controversial services they provide – most, if not all, of which are provided at many other places, even for low-income women without health insurance and none of which anyone is seriously talking about outlawing or anything of the sort.
I was able to make it to the rally, which was held on Saturday, with several other pro-lifers. While there I was interviewed by a reporter for the Columbia Missourian:
"We come out here because we believe that every life has value, every unborn child deserves a chance at life, and Planned Parenthood prevents that from happening in large quantities, every day, every year," said Chelsea Zimmerman of Holt's Summit.

She also took issue with its family planning services.

"The contraceptive mentality is anti-conception, basically, and so when conception happens, when contraceptives fail and conception happens, they need a back up plan and that's what Planned Parenthood provides for them," Zimmerman said.
Well, it's not perfect, but it was the best I could come up with off the top of my head (after a quick prayer to the Holy Spirit!). Her article is a little biased, at least in terms of how she reported the turn-out. She said that 40 Days for Life had 40 supporters show up. In truth it was about twice that (I counted at least 80) and we looked pretty evenly matched up with the Planned Parenthood supporters, so I'm doubting the 150 number she came up with. I do think they had slightly more supporters than we did, but I'd still only give them a little over 100 at the most.
Here are a few pictures I took with my phone (my good camera's battery was dead!!). Click each image for a larger version. Notice how the PP supporters couldn't even line up in front of their own building. Love it! 40 Days for Lifers just took over the sidewalk right in front of the PP, so PP supporters had to line up to the side, across the street…or stand behind pro-lifers. Great job Mid-MO pro-lifers!!