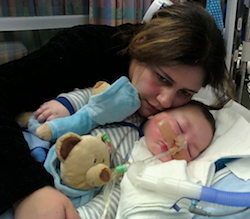 In case you've missed this truly awful story. In Canada, a family is fighting for the right to care for their sick 13 month old child. "Baby Joseph" has a severe neurological disorder and is is on a ventilator in a hospital in London, Ontario. His parents are very aware that their son is not going to recover, but they also don't want him to die in the hospital. So, they have requested a tracheotomy so that he can be cared for and die peacefully at home. Seems like a reasonable request. That's how they cared for a daughter who died of a similar condition eight years ago But doctors have refused and insist on just removing Joseph's ventilator and letting him die in the hospital. The case was brought before a Superior Court Judge in Canada who ruled in the doctors' favor, and now, according to Moe Maraachli, Joseph's father, hospital security is denying them private visits!:
"Security watch me and security stay with me…When I go to hospital I feel I am not in Canada. I feel I'm in jail or they kidnapped my baby."
Awful. And unnecessary! It's not like they could just take him out of the hospital, he'd die right away. That's what they need the tracheotomy for. In its defense, the hospital says that it has amped up security "given the public interest in this case and the emotions involved in it." Though, they have not actually received any threats.
I just read that the Michigan hospital they were hoping to get Joseph transferred to has declined. So now, it seems, his fate really is sealed. Awful. But his family is not giving up hope.
This, of course, has raised concerns about universal government health-care. Dr. Gerard Nadal reflects on When Hospitals Become Gulags. Awful.
Prayer: You have given the sick and the suffering a share in your cross, give them patience and strength. Save those you have redeemed by your blood, Lord.
*UPDATE* See video of Baby Joseph