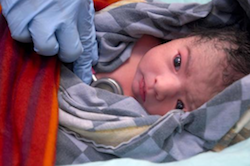 This is a delightful story (via KJL, photo via army.mil). After trying to help deliver an Afghan woman's baby for eight hours in northern Kandahar Province's Khakrez District, it was determined that an emergency c-section was the only way to ensure that both mother and child would survive. Lacking the necessary surgical capabilities at their location, doctors had the woman, along with her husband and mother-in-law, flown to the closest hospital, which happened to be the Coalition-forces-run Kandahar Airfield Role III Hospital. There a healthy 5-pound, 12-ounce baby boy was born 45 minutes after landing.
Said Navy Cmdr. (Dr.) Michael Cackovic, an OB/GYN and periontologist with the KAF Role III Hospital which probably only treats wounded or dying soldiers:
"It's the first time we've done this, and it is pretty amazing…After seeing all the traumas, seeing people who don't make it, and then to have this life spring out of nowhere it's a rewarding feeling."
Cackovic said the operating room was crowded as nurses, doctors and other medical facility servicemembers moved in to help and look on. I can imagine! War is hell, but new life is hope!