For the past six years the federal government has been funding abortion organizations, to the tune of $1 BILLION. So, it should come as no big surprise that, according to Planned Parenthood's recently released 2008-2009 Annual Report, you, the tax payer, are one of the largest financial contributors to America's largest abortion provider. It may not be a big surprise, but it should still piss off anyone who is apposed to abortion especially considering that number of children killed behind PP's doors continues to rise as the amount of your money they receive continues to rise:
What else are your tax dollars supporting according to PP's report? Ninety percent of the "health care" provided by PP is centered around pregnancy and disease prevention through comprehensive sex education…like showing girls how to put on a condom and encouraging our young people to "be sexy and healthy" (images from the annual report):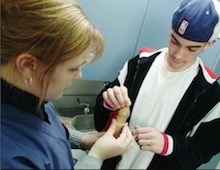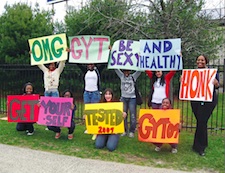 PP must be de-funded – for all services. It's wishful thinking, I know, considering the abortion giant has been well funded with our tax dollars under both Democrat and Republican controlled Houses and Presidencies over the years. But it's what needs to be done, not only in the interest of respecting the deeply held beliefs of many of America's taxpayers, but also for saving unborn lives and really protecting our young people.
At RedState, Susan B. Anthony List president, Marjorie Dannenfelser, has a good summary of what's "behind the colorful graphics and happy faces" of the PP report, as does National Right to Life.