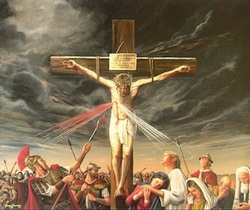 From a discourse of St Andrew of Crete – in the Office of Readings for today's Feast of the Triumph of the Cross:
Had there been no cross, Christ could not have been crucified. Had there been no cross, life itself could not have been nailed to the tree. And if life had not been nailed to it, there would be no streams of immortality pouring from Christ's side, blood and water for the world's cleansing. The legal bond of our sin would not be cancelled, we should not have attained our freedom, we should not have enjoyed the fruit of the tree of life and the gates of paradise would not stand open. Had there been no cross, death would not have been trodden underfoot, nor hell despoiled.

Therefore, the cross is something wonderfully great and honourable. It is great because through the cross the many noble acts of Christ found their consummation – very many indeed, for both his miracles and his sufferings were fully rewarded with victory. The cross is honourable because it is both the sign of God's suffering and the trophy of his victory. It stands for his suffering because on it he freely suffered unto death. But it is also his trophy because it was the means by which the devil was wounded and death conquered; the barred gates of hell were smashed, and the cross became the one common salvation of the whole world.
In the cross we are victorious, through the cross we shall reign, by the cross all evil is destroyed, Alleluia!
Though some may want a "Christianity" without the Cross, want to learn from the life of Christ and ignore the pain and bloody messiness of his suffering and death, it is a fallacy to think that the cross of Christ can be removed from the life and faith of the Christian. Christ Himself said as much when he called on us to take up our own crosses and follow Him.
[W]e proclaim Christ crucified, a stumbling block to Jews and foolishness to Gentiles, but to those who are called, Jews and Greeks alike, Christ the power of God and the wisdom of God. For the foolishness of God is wiser than human wisdom, and the weakness of God is stronger than human strength. (1 Corinth. 1:23-25)
Read more from St. Andrew on the Cross as Christ's glory and triumph.
Also worthwhile today: Jesus GOD!… Does it have to be like this? Fr. Z says:
We remove the Holy Cross of the Lord from our worship at our peril.