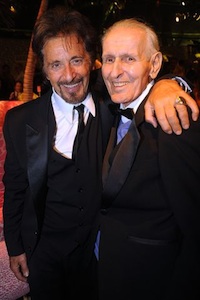 Life just keeps getting better for convicted murderer Jack Kevorkian. Not only was he recently portrayed by none other than screen legend Al Pacino in an HBO biopec, but Sunday night he got to attend and received special recognition at this year's Primetime Emmy awards.
"You Don't Know Jack" was nominated for a total of 15 Emmys and won two: Outstanding Lead Actor and Outstanding Writing in a Miniseries or Movie. While it was a little disgusting to hear Al Pacino, in his acceptance speech, refer to Kevorkian as "brilliant and interesting and unique" and then watch Dr. Death himself stand up to a round of applause as Pacino yelled, "You're all right Jack!", I do think the film's writer, Adam Mazer, had the best line of the night:
"Jack Kevorkian, I'm so grateful that you are my friend, but I'm even more grateful that you're not my physician."
It's an interesting comment coming from a man who wrote what I can only imagine is a movie that celebrates the not-so good "Dr." and his deadly "medical" practice. Although I did read some mixed pro-life reviews of it, so maybe it's not as celebratory as I thought it would be (but I still have no desire to actually find out for myself).
At any rate, I'm glad to see that the Academy of Television Arts & Sciences did not give it top honors as the most outstanding picture in it's category. That award, I'm pleased to say, went to "Temple Grandin," about the life of a severely autistic woman who has become one of the top scientists in the humane livestock handling industry. Grandin won 5 of its 15 nominations that night. Nice to see Hollywood honor life over death for a change.
For those of you who "don't know Jack," Wesley Smith has several details to offer. Also, I don't mean, in this post, to come across as though I do not wish for life to be kind to Mr. Kevorkian or that I think bad things should happen to him. He did "serve his time" and I pray for his conversion. But the man is being heralded for being a murderer. Besides this movie, however it ultimately portrayed him, he has been granted several high profile, high paying speaking engagements and interviews to defend his actions and spread his poisonous pro-euthanasia/assisted suicide beliefs.