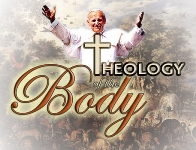 I'm still bummed that I wasn't able to attend the very first National Theology of the Body Congress last week. But I got lots of updates by following them on Twitter – mostly quotes from the different speakers throughout the three day event. By far, one of the best quotes I came across was from Cardinal Justin Rigali who, in his homily during the Mass on Friday, told attendees:
"The Theology of the Body is the curriculum for the Culture of Life."
How true. The widespread acceptance of sexual immorality has dulled many of our other moral sensitivities. Lust has replaced love which has lead to the dehumanizing of men and women as objects of use and the unborn child as an undesirable consequence of a false idea of "sexual freedom" resulting in the acceptance of the murder of this unwanted human life no longer recognized as such. This is why John Paul II said that building a culture of life requires us to also teach others to accept and experience sexuality and love and the whole of life according to their true meaning and in their close interconnection (Evangelium Vitae, n. 97).
Sexuality, love, life. They're all connected and what John Paul II has done in the TOB is put them in the proper context and show us how that connection is meant to be lived. TOB is more than just "Catholic sex ed", as some most assuredly see it, a set of rules and regulations for the bedroom. It is a scriptural treatise on the dignity of the human person, body and soul, and what it means to be made in the "image and likeness of God." In it the pope explains how we rediscover in the words of Christ "the meaning of the whole of existence, the meaning of life" (TOB 46:6).
Help spread this wonderful vision of the human person by sharing the gift of TOB with your friends and loved ones. Better yet, get some materials and start your own TOB study group with friends or church members.