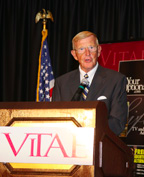 Coach Lou Holtz recently spoke at a pro-life fund raiser in St. Louis. A friend just forwarded me Vitae's most recent email update which included this quote of his from that evening:
"There are a lot of things in this world that I don't understand. I don't understand how a black cow eats green grass and produces white milk and yellow cheese. I don't understand why they sell hot dogs in packages of eight and hot dog buns in packages of ten. I don't understand how you can terminate a baby late in its pregnancy, yet if you kill the egg of an eagle you go to jail. I don't understand why you can't give a girl in school an aspirin without the parents' consent, but you can take them to an abortion clinic without their permission."
"Dr. Lou" has such a way with words, doesn't he?