Relying on the same disposition of the personal subject, thanks to which man fully finds himself through a sincere gift of self (Gaudium et Spes, 24:3), man (male and female) is able to choose the personal gift of self to another person in the conjugal covenant, in which they become "one flesh," and he is able to renounce freely such a gift of self to another person, in order that by choosing continence "for the kingdom of heaven" he may give himself totally to Christ. On the basis of the same disposition of the personal subject and on the basis of the same spousal meaning of being, as a body, male and female, there can be formed the love that commits man to marriage for the whole duration of his life (Mt. 19:3-9), but there can be formed also the love that commits man for his whole life to continence "for the kingdom of heaven" (Mt. 19:11-12). This is what Christ speaks about in his whole statement addressed to the Pharisees (Mt. 19:3-9) and then to the disciples (Mt. 19:11-12).
–John Paul II — General Audience 4/28/82 (TOB 80:6)
When I went to our local Carmelite Monastery recently I was so pleasantly surprised to find that Mass that day was also the "veiling" ceremony for their newest, and youngest, Bride of Christ, Sr. Johanna Marie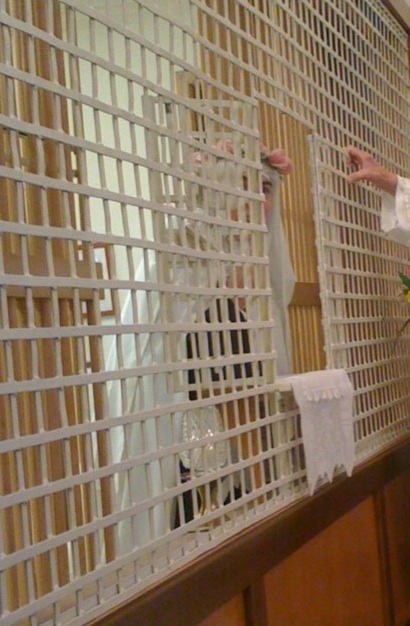 An unmarried woman or a virgin is anxious about the things of the Lord, so that she may be holy in both body and spirit. (1 Corinthians 7:34)
I don't know about you, but here in my diocese (Jefferson City, MO) we're hurting pretty badly for these extraordinary vocations, especially for priests. At Sunday Mass a few weeks ago our pastor informed us that our diocese includes 119 parishes and only 69 priests – the average age of whom is 63. Some blame celibacy and the indiscretions of our Church leaders for this vocations crisis. I think it has more to do with a crisis of sanctity and the "me" generation – people more concerned with pleasing themselves rather than God.
It's easy to get discouraged, but all is not lost. For me, the veiling of Sr. Johanna was a source of great hope. There may be fewer of them these days than we would like (at least in our part of the world), but young people are still being called and, more importantly, they're still saying YES! YIM Catholic has more signs of hope.
How many ordinations will there be this year in your diocese? We've got two coming up this summer, but nothing after that for quite a while. Do visit our seminarians' blog!