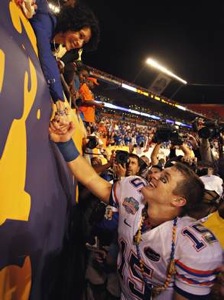 Lord knows I am not one to post rumors or speculation, but I'm hoping with all my heart that this one is true. From the Colorado Springs Independant:
[d]uring the (Super Bowl) telecast, mixed in among all the hilarious, watch-my-wife-Susie-blow-beer-out-of-her-nose commercials, there may be a 30-second, anti-abortion ad from our very own Focus on the Family.

Really.

A Super Bowl spot on CBS and three 30-second slots during pregame coverage would cost Focus $4 million.

*snip*

The Focus ad supposedly features the story of University of Florida quarterback Tim Tebow and his mother. Pam Tebow and her husband were Christian missionaries in the Philippines in the '80s, and during her pregnancy with Tim she developed amoebic dysentery. Doctors told her the strong drug they used to kill the infection had likely damaged the fetus, and they suggested an abortion. Pam refused. Tim was born healthy, won the Heisman Trophy in 2007, led Florida to the national championship a year ago and is a likely top draft pick in next spring's NFL draft.

*snip*

Focus isn't confirming anything about the ad, though it's not a secret inside the organization. Reached by phone Tuesday, Focus media relations director Gary Schneeberger said: "I decline comment. Let's just say that. I have nothing to say."

But then he added: "If there is a Super Bowl commercial from Focus on the Family, I guess you'll just have to wait and see it during the Super Bowl. I can say Tim Tebow does not appear in any Focus on the Family ad." Schneeberger didn't say anything about Tebow's mother.

A source says the new head of Focus, Jim Daly, spoke at an evangelical conference a few months ago and unveiled the Super Bowl ad plan. Then he begged for donations from like-minded organizations. According to the source, Daly was given about $3 million, and Focus dipped into its general fund for the other $1 million.
Unfortunately, something tells me that if there is any merit to this story and Focus on the Family is seriously pursuing this, there's a good chance that CBS will not allow the ad to air. You will recall that last year when NBC aired the Super Bowl they rejected Catholic Vote's pro-life ad featuring an unborn President Obama. I hope that does not happen. Not only is this the kind of message America – who still aborts over 1 MILLION of her own children every year – needs to see, but I'm sure it would be classier than many of the commercials we're likely to see throughout the evening.
The story of Tim's pre-born life has been told on national television before, though it was to a much smaller audience, I'm sure. I was pretty surprised when watching the 2007 Heisman Trophy presentation to see it mentioned in Tebow's intro video:
Tebow also mentioned it himself that evening in an interview with Kirk Herbstreit after winning the Heisman.
Here you can hear an interview with Pam Tebow at a 40 Days for Life event in Jacksonville, FL.