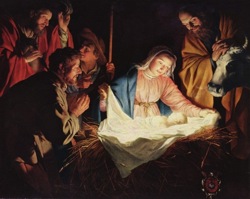 Steve Pokorny writes at Catholic Exchange:
Have you ever really listened to "Oh come, all ye faithful?" Check out the third verse:

Yea, Lord, we greet Thee

Born this happy morning;

Jesus, to Thee be all glory giv'n;

Word of the Father, now in flesh appearing.

GLORY

In the public square, the Second Person of the Trinity was proclaimed by His sons and daughters as coming down to earth, to wrap Himself in human flesh, and to become one like us. All the hopes and dreams of humanity hinges on that one small child who came to earth to bring us to heaven. And He came in A BODY. And it would be this Body, given for us, that would give new hope and new meaning of our own bodies.

If we slow down for a moment and really think about what we are singing, it is truly profound. For all of human history has been looking for God. Yet at Christmas, we proclaim that we do not have to look any more, for God has been looking for us and is now present with us as the greatest Present ever, never to leave. He is physically present to us. In all of our stumbles and falls in our search for Love, Love has come as the Bridegroom in a way that we never would have expected it, yet fulfills and exceeds all expectations. And that's just what Love is.
O King of all the nations, the only joy of every human heart; O Keystone of the mighty arch of man, come and save the creature you fashioned from the dust. The Lord is close at hand; come, let us worship Him!
A beautiful rendition of O Come All Ye Faithful by Enya:

Or, if you prefer it sung by choir: