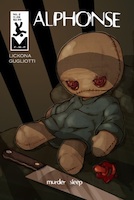 The second issue of Alphonse, the comic book created to foster discussion about abortion, is now available! About the issue:
Issue Two: Murder Sleep. The past weighs heavily on the present. The hunt begins. Sleep is disturbed. And love proves dangerous, but also brings hope.
Order your copy today (only $2.99) and help kickstart issue three.
For some background on Alphonse and issue one see my post here or visit http://www.alphonsecomic.com/