29 year old Brittany Maynard made headlines last year for announcing her decision to end her life with doctor-prescribed suicide after being diagnosed with brain cancer. A Californian, she was, in her own words, "forced" to move to Oregon to exercise her "right to die" because of California's ban on assisted suicide.
At the time, critics of death-as-medicine were rebuked for speaking out because, according to her supporters and Maynard, herself, it was her "private" choice that would have no effect on our lives whatsoever.
Fast-forward almost exactly a year and we are now seeing the deadly fruit of Mrs. Maynard's "private" choice.
For a while things looked positive. Early this summer a bill to allow doctor prescribed suicide in the state of California failed to make it out of an assembly committee. Then the issue was brought before a state court, where it was again defeated.
But that was not enough to deter those intent on engaging doctors in the practice of killing.
Just days after the court upheld the state's ban on suicide they reintroduced the bill in an extraordinary session of the legislature, hoping to work around members of the assembly that are vocal opponents of the practice.
And it worked. And this was the featured image that accompanied the LA Times story on the bill's passage.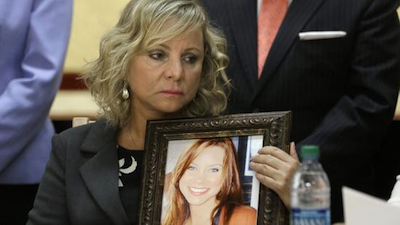 Caption: Debbie Ziegler holds a photo of her daughter — Brittany Maynard, the California woman with brain cancer who moved to Oregon to legally end her life last fall — during a news conference to announce the reintroduction of right-to-die legislation in August. (Rich Pedroncelli / Associated Press)
From the story:
Despite such heartfelt opposition, the proposal gained momentum after Californian Brittany Maynard, 29, moved to Oregon last year so she could end her life with drugs to avoid the debilitating effects of brain cancer. Her case was covered nationwide, and in a videotaped appeal before her death Maynard urged California lawmakers to pass the assisted-death legislation.
The bill easily passed the Senate and on October 5 Gov. Jerry Brown officially made California the 5th state to legalize doctor-prescribed suicide.
Boom. Millions of Americans affected by one woman's "private" choice.
Our Suicidal Split Personality
The sickening irony of the passage of the bill in the California State Assembly this September is that it came during Suicide Prevention Week — specifically on Worldwide Suicide Prevention Day!
Which, again, makes me wonder: Why suicide prevention for some and not all? Why does our tune change for the physically sick and disabled? Why then, instead of calling for suicide prevention, do we cheer them on to their deaths — and call on our medical professionals to help them die?
We can't have it both ways, folks.
No, really. We can't. It turns out assisted suicide actually increases other suicides.
A study published the Southern Medical Journal recently found a statistically significant suicide increase in states that have legalized physician assisted suicide (PAS). From the article:
Controlling for state-and year-?xed effects, PAS is associated with an 8.9% increase in total suicide rates (including assisted suicides),an effect that is strongly statistically significant (95%) confidence interval [CI] 6.6%Y11.2%).

Once we control for a range of demographic and socioeconomic factors, PAS is estimated to increase rates by 11.79% (95% CI 9.3%Y14.1%). When we include state-speci?c time trends, the estimated increase is 6.3% (95% CI 2.7%Y9.9%).
Assisted Suicide is Never a Personal, Private Matter
What is perhaps most disturbing about Gov. Brown's decision to allow the bill to become law was that it was, ultimately, based purely on selfish emotion. "In the end, I was left to reflect on what I would want in the face of my own death," the Governor said.
Never mind the millions of sick and disabled who will be marginalized once death becomes an acceptable "treatment" for pain and suffering. Never mind the documented abuse and neglect of so-called "safeguards". Never mind the "slippery slope" into anything goes euthanasia that is real and well documented.
And of course he ignored the fact that the majority of physicians — the people who would actually be responsible for ending the lives of those who want assisted suicide — consistently oppose assisted suicide. In fact, the president of the American College of Physicians wrote a strongly worded letter to Brown asking him to veto the CA legislation.
As I've said here many times: "death with dignity" is hailed as an exercise in personal autonomy, but the people claiming this "right" do not act alone. It's never a personal, "private" choice. They require assistance — a coarsening of some other person's conscience. Namely, doctors, whose job is to heal, not kill.
Not About Pain
Most advocates will argue that assisted suicide is about alleviating pain, but palliative care in the 21st Century has come so far as to be able to eliminate virtually all physical pain.
No, assisted suicide is not about pain control; it's about the illusion of personal control even over death.
Take Washington state, for example, where a 43 percent rise in doctor-prescribed suicides in 2013 was motivated not by pain, but by feared loss of autonomy and "dignity," according to the official state government report. This despite the fact that the state's assisted suicide referendum was adopted largely on the basis of the idea that it would be used only for dying patients with unbearable pain and suffering.
Maynard, herself, in interviews, videos and blog posts prior to her own suicide, talked mostly about fear of losing her faculties and being a burden on her family than she ever talked about pain.
Death is not a right. It is an eventuality that will visit us all. And dignity is not achieved by withholding food and water or ingesting poison. That is profound abandonment — of others and of oneself. We have a right to expect the best palliative care and pain management at the end of our lives.
The Good News
All is not lost, however. I would like to end on a positive note, which I don't get to do here very often.
Despite the movement for physician assisted suicide gaining momentum throughout the country, it still largely continues to be defeated in legislatures and in courts. Massachusetts, Connecticut and New Jersey have rejected assisted suicide, as has the British Parliament, shortly after the California decision.
Let's pray that trend continues and California is not, as many hope/fear, the tipping point in this decades-long battle here in the States.
If the West is going to survive, we must recall our sense of community and our duty, not necessarily to take people out of their suffering — which is often not in our power — but to "be with" the other in their suffering, so that they do not have to suffer alone.
Caring for others is a noble and loving part of the human condition, but it needs people willing to be graciously cared for. As my friend Mark says: the independence of the individual must only exist within the interdependence of the community.