This is a great story:
After helping Sami Simmons learn to adjust to life with a wheelchair, the staff at Rusk Rehabilitation Center was not going to let the Brunswick teen miss her junior prom.

Sami was paralyzed from the waist down after she was ejected from her airborne 1997 GMC Jimmy during an October 2013 wreck. She was a patient at Rusk, 315 Business Loop 70 W., for about a month after the crash.

Barely 18 months later, she was back at Rusk for treatment of a pressure ulcer — a bed sore — that made it difficult for her to sit in her wheelchair. The wound led to a bone infection and another stay at Rusk.

While physical and occupational therapists helped get Sami on the mend, the prom at Brunswick High School was rapidly approaching. Sami, 17, had an elaborate prom dress, the perfect shoes — and a date.

"I said, 'We're going to get you to prom,' " Jenny DeShon, an occupational therapist at Rusk, said…

…

DeShon navigated administrative hoops to get approval for the April 25 prom date, and she assembled a team to get Sami dolled-up for the dance 75 miles northwest of Columbia. Mary Simmons smiled at the memory.

"They decorated her chair," she said.

DeShon returned the smile. "It took a village," she said. Rusk staff members styled Sami's hair and handled her makeup.

DeShon and physical therapist Bonnie Fruits chauffeured Sami to the prom, leaving Columbia at 4:30 p.m. They returned seven hours later.

"We were the Sami pit crew," DeShon said. "I was really amazed to see the support of her school."

"They were really excited to see me," Sami said. Friends jockeyed to take Sami in and out of a busy photo booth.

"All of the effort that it took — I wouldn't think twice about it," DeShon said. "We thought of everything you need being an hour and a half away from here."
During what should have been the most traumatic and depressing time of my life, the dedicated staff at Rusk (all of them: docs, nurses, PTs, OTs, techs, etc…) helped me see what was still possible and accept and adjust to life with a spinal cord injury with joy and good humor.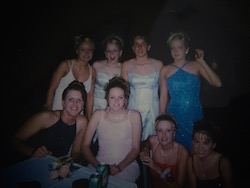 In many ways, it is thanks to them that I was able to attend my own prom just a few short months after my accident.
I have nothing but wonderful memories of the time I spent there. So glad to see the staff is just as awesome today as it was 16 years ago. And it's about to get even more awesome, because…
I'm extremely proud to say that, starting this week, my little sister will be a PT at this fantastic facility! It was while I was a patient at Rusk that Carly decided she wanted to be a PT. So happy she was able to land her dream job — just FIVE months after graduating, no less!