Pope Francis is well known for stopping his motorcade and getting down to reach out and embrace people with disabilities who come to his audiences. Today, the Holy Father used the wonders of technology to reach out virtually and chat with a handful of children with special needs and disabilities in various countries, including the United States.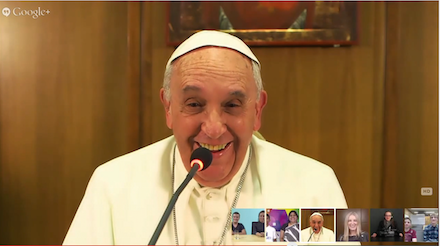 Participants in the Google Hangout shared with the pontiff the various ways technology has enriched their lives.
13 year old Isabel from Spain uses a computer with a screen reader and and a braille reader that makes everything that appears on the screen appears as braille: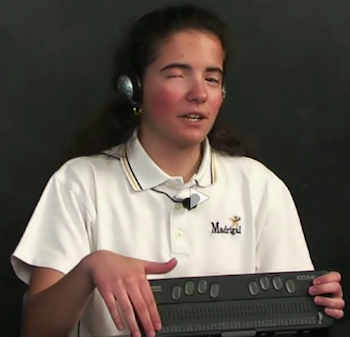 Pope Francis asked what message she would like to give to him, to which she responded (I'm going by YouTube's closed captioning and Zenit for most of the translations here): "That people with disabilities don't give up. With effortt you can do whatever you (want to?) do and reach whatever goal you want to reach"
Pedro Garcia, 12, from Sau Paulo shared his love for online video gaming. "I use the mouse with the left hand and the keyboard with my right stump." He and the pope also bonded over their mutual love for the game of soccer.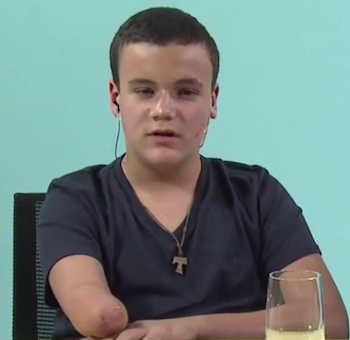 Alicia, 16, from Spain, showed off the camera she uses with her film group.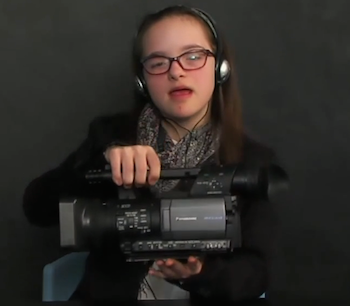 Alicia also asked the pope if he liked to take pictures and upload them to the computer. "Do you want me to tell you the truth?" he asked. "I am old fashioned when it comes to computers. I am a dinosaur. I don't know how to work a computer. What a pity, huh? What a shame."
Elvira, 12 — enjoys making videos just like Alicia…and singing.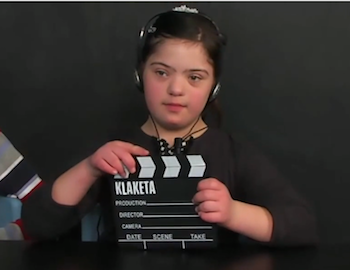 Taylor and Isaiah, high schoolers from Nebraska. Isaiah spoke of overcoming many obstacles in his middle school and high school career due to a lack of fine motor skills.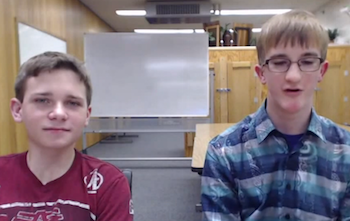 Isaiah asked the pope what he does when he's faced with difficulties. "Remain calm," Pope Francis responded. "Afterwards find a way to overcome it. Of getting over it. And if it can't be overcome, then I have to resist it until the possibility comes up that I can overcome it. There is no need to be afraid with difficulties. Don't be afraid ever. We are capable of overcoming everything. All we need is time to understand them, intelligence to find a way and courage to continue forward, but never be afraid."
13 year old Manoj in India, a hearing impared student, never knew what a computer was till three years ago. Now, "When I don't understand anything with my subject, I go to the internet and search pictures. Then I know. It is like having another teacher."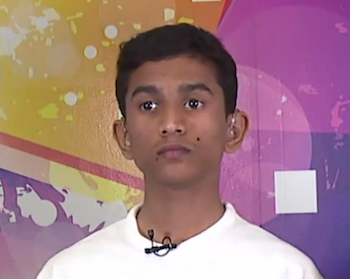 Asked how he thinks scholars can help us, the pope replied, by "building bridges, communicating with you, with you all, because when you all communicate the best of what you have inside, and you receive the best from others and that is very important. When we don't communicate, we stay alone with our limitations and that is bad for us…the most important thing is communication, to give and receive, and that does us well and we're never alone. Scholas can help you with this in communication."
Finally, Bauti, 14, from Spain talked about using his tablet to study math, science, make picture collages to show to his friends and play games.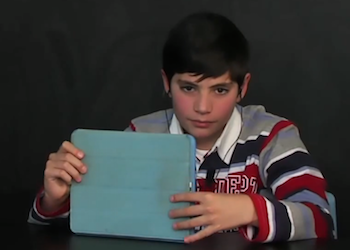 "Do you have a tablet?" he asked. The Holy Father laughed and replied, "No, I don't have one."
The pope concluded the hangout by telling the kids that they each have a treasure inside, and not to hide it. "What you do from the place where you are helps all of us. Helps us to understand that life is a beautiful treasure, but it only has meaning if we give it."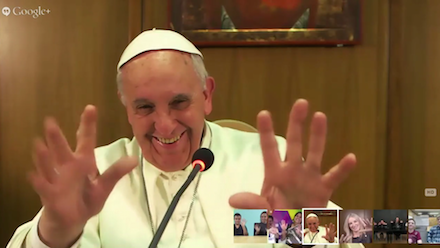 You can watch the entire exchange below: