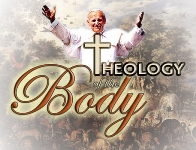 I am pleased to announce that a parish in my diocese will be hosting a TOB seminar next month! Christopher West will be at St. Patrick Church in Rolla, MO on Saturday, Nov. 8 to present An Introduction to Theology of the Body. From the flyer:
In the words of Pope John Paul II, "if we live according to the true meaning of our sexuality, we fulfill the very meaning of our being and existence." Many think they understand what the church teaches about the body and the relationship between man and woman. However, the deeper reasons—the WHY of these teachings—are NOT well understood.

The human body is meant to be a sign of God's own life and love in the world. Join Christopher West for a thought provoking presentation that will enrich your understanding of human sexuality and the spiritual power it contains.
This is the same seminar that I went to in KC earlier this year. It consists of four parts:
• What is the Theology of the Body and Why is it so important?
• The Creation and Redemption of Man and Woman
• The Resurrection of the Body and the Heavenly Marriage
• The Sacrament of Marriage and the Language of Sexual Love
The event is from 9:00 a.m. to 3:00 p.m. They will be offering 8 a.m. Mass for those interested. Pre-registration (by 10/24) is $15, registration (after 10/24) is $20 with a $5 optional box lunch. Register form can be found on this flyer or contact Paul Wood: 573-364-1435, stpatsyouth@ymail.com.
St. Patrick Church
17 St. Patrick Lane
Rolla, MO 65401