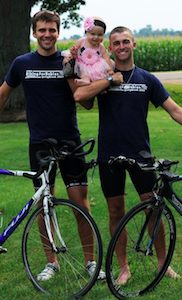 This is a little late notice, but tonight (9 pm CST) EWTN's Life on the Rock is having a pro-life special in commemoration of the 40th anniversary of Roe v. Wade. I'm pleased to see that two of the guests on tonight's program will be Jimmy Becker and Mike Schaefer (pictured right), founders of the group Biking for Babies.
I had the great pleasure of speaking with Jimmy on the phone several months ago. Awesome guy. Great organization. I love it when pro-lifers think outside the box.
You'll learn more about it if you watch the show, but briefly: Biking for Babies is an annual long-distance bicycle trip to increase awareness of the dignity for human life at all stages. The first B4B was a 600 mile ride from Carbondale, IL to Chicago, which raised over $13,000 for several local pro-life charities and pregnancy centers. This year they'll ride for 1,100 miles from New Orleans to Chicago with a goal to raise $40,000. They do a great job of 'vlogging' their rides every year. Videos, more info about the riders, and how to donate, can be found via the ride's website: www.BikingForBabies.com and on Facebook.
Check them out tonight, 9pm CST. If you don't have cable or your provider doesn't carry EWTN, you can watch it live online at EWTN.com