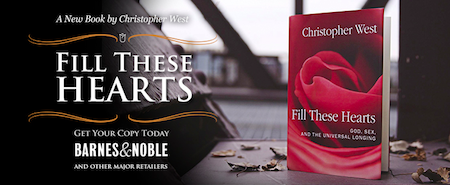 Good news! Christopher West's new book, Fill These Hearts: God, Sex, and the Universal Longing, is now available.
Even better news! Brandon Vogt is giving away three copies of the book on his website. Click here to enter. Winners will be selected on Friday.
Here is the publisher's description of FTH:
Fill These Hearts is a book about desire. Not trivial wants or superficial cravings, but the most vital powers of body and soul, sexuality and spirituality, that haunt us and compel us on our search for something. Weaving life-altering lessons together from classical and contemporary art, pop music, movies, and the Christian mystical tradition, popular theologian Christopher West explores the ancient but largely forgotten idea that the restless, erotic yearnings we feel in both our bodies and our spirits reveal the cry of our hearts for God. Along the way, West blows the lid off the idea of Christianity as a repressive, anti-sex religion by demonstrating that Christ came to stretch and inflame our desire for love and union to the point of infinity.
Click here to read the first chapter. Click here for Kathryn Jean Lopez's interview with West about the book. And, most importantly, click here to order your copy!