For the past couple of years I've really been harping on what I consider the human rights disaster that is IVF. This is (one of the many reasons) why. Via the UK Telagraph: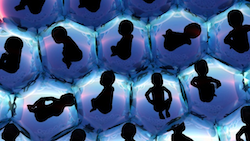 Official statistics show that almost half of embryos used to help a women conceive through in vitro fertilisation were thrown away during or after the process.

The embryos are created from female eggs and male sperm during the IVF process, with some introduced into the womb, put into storage, discarded as unwanted or used in scientific experiments.
…
Since August 1991 more than 3.5 million human embryos have been created, producing only 235,480 "gestational sacs" or evidence of successful implantation.

Of the embryos created, almost 840,000 were put into storage for future use and more than 2000 were stored for donation. Almost 5,900 were set aside for scientific research.

Almost 1.4 million embryos were implanted in the hope of beginning pregnancies, with fewer than one in six resulting in a pregnancy.

Nearly 1.7 million were discarded unused and a further 23,480 were discarded after being taken out of storage.
UK Daily Mail has more as well and, according to their calculations, this means that 93% of all embryos created for IVF are never used to generate a pregnancy.
The key word there is pregnancy. Note that these figures do not show how many of the successful implants resulting in pregnancies went to term. So, the number of lives lost or destroyed in the name of this "compassionate" medicine are even higher. According to these numbers, the Daily Mail calculated that 15 embryos are made for every child conceived through IVF. Two years ago, their numbers indicated that the number of embryos made per successful birth was twice that.