"Today I'm going to marry my best friend!"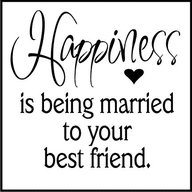 I can't tell you how many times I've seen that announcement or something similar to it ("today my best friend asked me to marry him," etc…) on Facebook. That's why I was so intrigued to read this article from Marjorie Campbell on why she's glad her husband is NOT her best friend:
I need to get this off my chest: my husband is not my best friend. He's never been my best friend and never will be. I experience some envy of the young brides and long-married wives who contentedly call their spouse "my best friend." Facebook has a site called "My Husband Is My Best Friend" with over 170,000 "likes"! I don't doubt that some husbands are capable of female-friendly friendship. But mine is not and, well, his relation toward me is not anything I recognize as friendship, not in terms I understand. I am not complaining. For me, not being best friends is the cornerstone of our marriage – and I love my marriage just the way it is.
…
Husband is a verb – "to manage, especially with prudent economy" – that describes mine better than the noun. Just calling him spouse, partner or companion says nothing about him. He could call me the same, his "spouse or partner or companion," as if we are just alike, friends who got married. Husband, in its verbiage, works better by hinting there is difference between us. In my marriage, it works especially well because my husband wears his tendency to manage, direct and control all things with pride and tenacity. He is stereotypical "male" in this way – the kind of overbearing Alpha male that caused my own mother to comment "I've never cared for men like that."
What do you think? Is your fiancé or spouse your best friend? Do you think that is important for marriage or are some couples just "lucky" that way? Does it all depend on your definition of friendship?