Wow. These 'mommy wars' just don't stop. Hot on the heals of this article, which I wrote about earlier today, Cherie Blair, wife of former British Prime Minister Tony Blair, said in a speech recently that every mother should work outside the home – for the good of the children: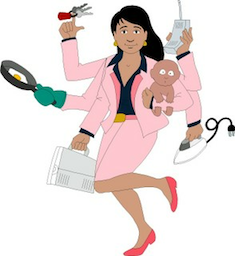 "Every woman needs to be self-sufficient and in that way you really don't have a choice – for your own satisfaction; you hear these yummy mummies talk about being the best possible mother and they put all their effort into their children. I also want to be the best possible mother, but I know that my job as a mother includes bringing my children up so actually they can live without me."
Ok, this time I'm reminded of something from Chesterton:
I do not deny that women have been wronged and even tortured; but I doubt if they were ever tortured so much as they are now by the absurd modern attempt to make them domestic empresses and competitive clerks at the same time." (What's Wrong With the World, p. 148)
That might be a bit of an overstatement, but not by much. Perhaps Mrs. Blair hasn't heard, but despite 40 years of feminism and an ever-increasing number of women working outside the home, women today are more unhappy than ever. For the good of children, you say? Hmm…how does that phrase go? If momma aint happy…
Look, everyone here really needs to get a grip. Parenting is not a one-size fits all vocation. Except for the fact that we know children thrive best when they have both a mother and a father, there is no standard for how that should work. Every family needs to decide for themselves what's important to them, what they think is best for their children and what they can afford to do based on their own circumstances.
Not all stay at home moms are your stereotypical "yummy mummys". Most of the ones I know work hard everyday, and their husbands are not financially wealthy by any stretch of the imagination. Many stay home because it actually saves the family money – on day care/school costs, etc… – more than a double income would, and/or they make sacrifices – a smaller house, no brand new cars, video games, etc… – because it's just that important to them. And that is great and it works out well for many, many families.
And then you have the mothers who work outside the house, whether by choice or necessity, and there's absolutely nothing wrong with that, either. My sisters and I actually had it both ways growing up. Both my parents worked outside the home up until I was in middle school (maybe a freshman in high school) when my mom quit her job.
As long as the kids are being cared for and no one's being neglected or abused, who cares which parents are working or not (let's not forget the SAH dads!)?