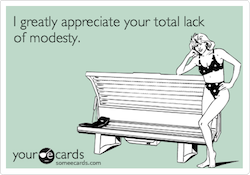 This is something I'm slowly coming around on. Not that I have ever strongly believed that women should wear bikinis or that it doesn't matter if they do, it's just not something I've really thought a whole lot about and developed a strong opinion on one way or another.
Bikinis are just the normal, socially acceptable kind of bathing attire that girls wear. Go into any popular women's clothing store right now and you'll see that's what 99% of their stock of bathing suits for us consist of. I always wore bikinis in high school and I know several good Christian women who wear them today.
But, the arguments against them, when you finally sit down to think about it, really do just make sense. Specifically, that most women would never consider going out of the house in their underwear, so why do the rules change when it's a "bathing suit" that is just as revealing, if not more so?
And then there's this. Jason Evert explains the findings of a 2009 Princeton University study of the male brain when showed images of bikini-clad women:
When the young men viewed the scantily clad women, the part of their brain associated with tool use lit up. Even though some of the images were shown for as little as two-tenths of a second, the most easily remembered photographs were of bikini-clad women whose heads were cropped off the photos!

The purpose of the research, according to Susan Fiske, a professor of psychology at Princeton University, was to examine ways in which people view others as a means to an end. The findings of the research were presented during the annual meeting of the American Association for the Advancement of Science, held in Chicago.

Researchers also discovered that when some of the men viewed scantily clad females, the men's medial pre-frontal cortex was deactivated. This is the region of the brain associated with analyzing a person's thoughts, intentions, and feelings. Fiske remarked, "It is as if they are reacting to these women as if they are not fully human." She added, "It is a preliminary study but it is consistent with the idea that they are responding to these photographs as if they were responding to objects rather than people."
Some will say this isn't our problem. But we have a duty, not just to protect our own dignity, but also to at least try not make the already difficult task of chastity even more difficult for our brothers in Christ.
Turns out, I'm not the only one thinking about this at the moment. Last week, "Bright Maidens" blogger, Elizabeth Hillgrove, one of my fellow contributors over at Ignitum Today, had a two part "Bikini or Bikini-No?" discussion over at her blog Startling the Day. See: Part I and Part II.
Also related: over at Catholic Lane we published a piece on Four Reasons to Keep Bikini Pictures Off Facebook.
Ladies, what do you think about all of this? Do you wear bikinis? If not, do you go for regular one piece or something like this?