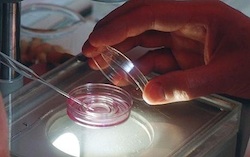 Meant to post this last week. A rare case of 'good news' regarding third party reproduction:
Dr Anthony J. Caruso is a Chicago doctor who worked in the field of in vitro fertilisation for 15 years before he quit in 2010. We interviewed him by email about the reasons for his change of heart.

MercatorNet: You ran a successful IVF practice in Chicago for ten years. Why did you leave?

Anthony Caruso: I was a member of several infertility practices since joining the field in 1995. In 2008 I was increasingly concerned about the kind of procedures we were doing. Initially it was the demands of same-sex couples. Then it was the way in which everybody looked at the embryos that had undergone pre-implantation genetic diagnosis.

Finally, it was the realization that the embryos that we were producing were just as important as the embryos that were transferred. I could not change my practice to accommodate the way I was looking at the process.
…
Is there one event that crystallized your decision to stop?

The reading of a 2008 document from the Vatican, Dignitas Personae, was the first blow. That instruction is written beautifully, and uses all of the current statistics in its analysis.
Read the rest. And, if you ever get time, read through some of Dignitas Personae, which is instruction from the Congregation for the Doctrine of the Faith on certain biological questions like genetics, cloning, embryonic stem cell research and assistive reproduction. If you ever want to know what the Church really has to say about these issues, that's the place to find out.
We pro-lifers love it when abortion facility workers, like Abby Johnson, have a change of heart and we frequently pray for the conversion of abortionists. Let's also pray for the conversion of those who manufacture and destroy life in IVF clinics and science labs all over the world.