Sad to hear about the passing of Dick Clark today at the tender age of 82.
I really think Dick the world a favor when he returned to his post as the host of Dick Clark's Rockin' Eve after a devastating stroke. Why?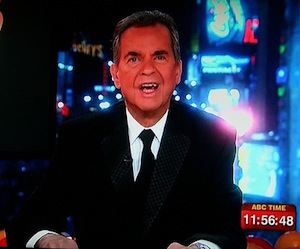 Responding to critics of his "cringe-worthy" return who said that he should have "gracefully (left) the stage" after his health deteriorated, CMR's Matthew Archbold, writing at the Register last January, said it best:
Dick Clark is not a legacy, he is a human being.

In these modern times, we seem to feel increasingly "uncomfortable" with anyone who looks less handsome than an A-lister or doesn't speak as well as Ryan Seacrest. We don't do sickness anymore. We don't do ailments. The disabled are something to be hidden away, embarrassed about.

We used to care for our grandparents at home so we all grew up knowing a little something about it. We watched our father carry his mother upstairs after dinner every night. We watched our mother wipe her mother's face with a napkin. And we learned. We helped pick them up when they fell. And we tried not to notice how embarrassed they were.

But as a culture, we don't really do that anymore. The old and disabled are all too frequently shipped off and visited infrequently. We prefer to remember them as they were we tell ourselves – as a way of honoring them. But that's not what's going on. We just don't want to be reminded that life isn't perfect, sickness happens, and disabilities don't discriminate.

Maybe that's why 90 percent of Down Syndrome babies are aborted. Maybe that's why the elderly are euthanized for fear of becoming a burden. They must not be seen. They are the imperfect.

*snip*

Dick Clark has had an amazing life. And this is the phase of life he's in right now. Dick Clark was always a great host. But he seems to be more than that now. He seems heroic to me now. He knows he's slurring his words. He knows he doesn't look like the teenager he looked like for so long. And I think he's exactly what we need to see. In these days when everyone on television looks vaguely perfect in a similar way, to me Dick Clark looks…human.
Thank you, Mr. Clark, not just for giving us years of entertainment, but also for embracing your humanity with all its hardships and "imperfections." The latter, I believe, may be the greatest gift you left to us all.
May his soul and the souls of all the faithful departed, through the mercy of God, rest in peace!