What started with just one hour in College Station, TX not even ten years ago, has grown to a bi-annual 40 day campaign of prayer, fasting, peaceful vigil and community outreach in hundreds of cities across America and around the world.
Starting today through Sunday, April 1, 40 Days for Life campaigns will be held in 258 cities all across the United States (44 states and the District of Columbia) plus Canada, Australia, England, Ireland and Spain. This will be their largest spring campaign ever.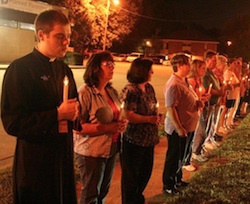 How moving it is so moving to see such a peaceful, prayerful campaign spread so far and wide. And what a testament to how committed the pro-life faithful are to ending abortion and building a culture of life. The horror of abortion has been a legally accepted practice here in the United States for nearly forty years. After so much time we could have easily given up hope over ever turning things around. Instead, the pro-life movement has grown significantly over the years and is stronger now more than ever before with more and more pro-lifers stepping out of their comfort zones and into the, sometimes very hostile, public eye to speak for those who have no voice.
Even Campaign Director Shawn Carney is surprised by the success of 40 DFL. "When we conducted the first 40 Days for Life campaign in College Station, Texas, back in 2004, if you had told me that 40 Days for Life would spread around the globe … I wouldn't have believed it," wrote Carney on the 40 Days for Life blog. "We thought there would be ONE — and only one — 40 Days for Life campaign. EVER. Thankfully, God's plans were bigger than ours"
Amazing things happen when we put our trust in God and step forward in faith. Since this campaign started, twenty-one abortion centers where 40 Days for Life vigils have occurred have shut down and 5,045 lives that have been spared from abortion (and those are just the ones we know of!).
I hope you will make some time in these next 40 days to participate in this life changing, life saving event. Find the 40 Days for Life campaign nearest you to learn how you can help make a life-saving difference in your own community. If nothing else, please click here for daily devotionals and pray and fast with us this Lent for an end to abortion and a greater respect for all human life. Don't worry, prayer is the life-blood of this campaign, so, even if that's all you can do, that's no small thing!
Lenten Pro-life Prayer
(via Priests for Life)
Father of all mercy,
We thank you for this season of grace and light.
We know that sin has blinded us.
Draw us ever closer to you, in prayer and penance.
Since you, O God, are light itself,
Give all your people a clearer understanding
Of what is sin, and what is virtue.
Grant in particular that we may see, as never before,
The profound dignity of every human life,
Including the vulnerable unborn children.
Give us grace to defend
Our brothers and sisters in the womb
By our prayers, our words,
And our self-sacrificing actions.
We pray through Christ our Lord. Amen.