Jimmy Akin has an interesting post on the concept of "soul sleep" – addressing the question of whether the soul is alert after death or if death is more like sleep. Check it out.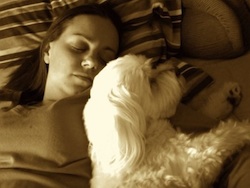 It kinda reminds me of something I read recently in Fr. Richard John Neuhaus' book As I Lay Dying about what went through his mind after having a very near death experience:
To be dying – I knew about that. That we are born toward dying, that opinion was divided as to whether or not I was near that final point – I knew about that. But to die, the thing itself, that I was trying to understand. I am returned to "Now I lay me down to sleep."

As a boy in my attic bedroom I could at times see the moon through the dormer window. Again and again, I determined to keep my eyes on the moon and so stay awake in order to experience the actual moment when I went to sleep. I wanted to know, to witness, the event of passage from the state of being awake to the state of being asleep. But of course I never succeeded in this quest. There was the experience of being awake, and then of being sleepy and heading into sleep; there were dreams that I knew were dreamed while sleeping, and then the experience of waking up and looking back on the undoubted fact that I had been asleep. Sleepiness was experienced as a thing within me moving toward sleep and, at the same time, a thing outside me that overtook and overcame me. This, I thought, was surpassingly strange. When did I, from within me, go to sleep? When did it, from outside me, overtake me? Where am I, or am I at all, when I am sleeping? Of course there was nothing original in my childhood ponderings. Anthropology offers many accounts of cultures that weave wondrous tales about the mystery of sleep. But on my hospital bed I saw again, in my mind's eye, the moon through the attic's dormer window and wondered more deeply about the moment of going to sleep, the moment of dying.
Glad to know I'm not the only one who thinks about these things. What about you? Do you think about death or dying very often? It sounds morbid, but keeping the end in mind does help us keep this life in perspective and prepare ourselves for the one that is to come.