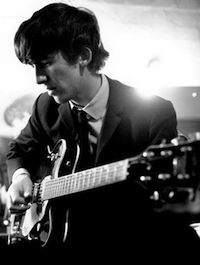 On this day 10 years ago, my favorite musician, Mr. George Harrison, lost his battle with throat cancer and the "Quiet Beatle" was silenced forever in this world. Harrison was always considered the most spiritual of all the Beatles and, in a statement released by his family on the occasion of his death in 2001, he was credited as often saying:
"Everything else can wait, but the search for God cannot wait"
As the Baltimore Catechism states, "God made us to know Him, to love Him and to serve Him in this world, and to be happy with him forever in heaven." Our time on earth is very limited and so our search for the God whom we are called to know, love and serve here is something that must never be put on hold. "Be watchful! Be alert! You do not know when the time will come" (Mk. 13:33).
I don't know exactly what Harrison's religious beliefs were, except that he was, of course, heavily influenced by eastern mysticism and spirituality and, I think, a believer in reincarnation. Nevertheless, I pray that his quest to know and love God in this life will lead to peace and happiness with Him in Eternal Life.
Eternal rest grant unto him, O Lord, and let perpetual light shine on him forever. May he rest in peace.
My favorite Harrison/Beatles song (and, really, my favorite song of all time):

For every human is a quest to find the answer to, why are we here? Who am I? Where did I come from? Where am I going?…Everything else is secondary. (G. Harrison, CBS This Morning, 6/12/97).