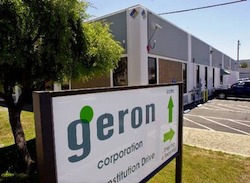 Last week, citing financial difficulties as the main factor behind their decision, U.S. based Geron corporation announced that it was suspending the world's first human trial for cells derived from human embryos and getting out of the embryonic stem cell (ESC) research business altogether.
In recent years private investment into ESC research has been steadily declining for several reasons, not the least of which being the fact that it has failed to deliver the incredible results that its supporters have been promising. That's why ESC researchers have been lobbying heavily for expanded government funding for their research. And they've been getting it!
Geron was no exception. Yes, the biotech company was using some of your tax dollars for their unethical research before they gave up on it last week. Last year, they were awarded five cash grants totaling $1.2 million under the "Qualifying Therapeutic Discovery Project" included in Obamacare. Three of those grants were for ESC research and were valued at $735,000 altogether.
Among the qualifications to receive these grants, projects must "show reasonable potential to result in new therapies to treat areas of unmet medical need," according to Geron's own press release. Additionally, "preference was given to projects that showed the greatest potential to create and sustain (directly or indirectly) high quality, high-paying jobs in the United States, and advance United States competitiveness in the fields of life, biological, and medical sciences." Besides announcing that it was getting out of the ESC business, Geron also announced that it was cutting 66 full-time positions, which is about 38% of its workforce.
Since Obama took office 434 million in taxpayer dollars has been spent on ESC research – $143 million in 2009, $165 million in 2010 and $126 million in 2011. That's nearly half a billion! It may not seem like a lot of money compared to how much the government is wasting on other pointless projects, but it still has got to end. If private investors are not willing to put their money into this research, the Federal Government certainly has no business forcing taxpayers – many of whom have serious moral and ethical objections to it – to foot the bill.
h/t Jill Stanek