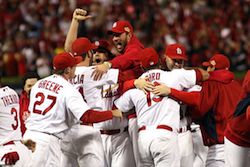 Well, our legislature might suck here in Missouri, but our Cardinals sure don't! Congratulations to the 2011 World Series Champions! I'm not a big baseball fan, myself, but even I couldn't help getting a little excited (not a word I generally associate with baseball) after watching game 6 Thursday night. Game 7 wasn't nearly as exciting, but I sure loved seeing all those cute kiddos and proud Cardinal papas up on the trophy stage after they won (hopefully I can find a pic of that online soon)! Pitcher Chris Carpenter even did his entire post game interview up there with his daughter perched on his shoulders. So precious.
As good as they are on the field, many of them do even more impressive things off the field to help improve the lives of others. I am particularly fond of the foundation started by Albert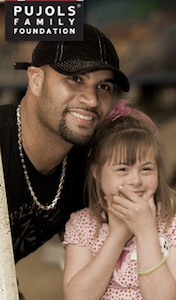 Pujols and his wife Deidre. After their daughter was born with Down syndrome, they started the "Pujols Family Foundation" dedicated to the love, care and development of people with Down syndrome and their families. It is based on the belief that every person is special in the sight of God and through it they promote awareness of and hosts events for people with Down syndrome. Pujols has also given a significant sum of money to help build The Albert Pujols Wellness Center for Adults with Down Syndrome at St. Luke's Hospital in Chesterfield, MO.
People with Down syndrome should be loved and celebrated, not snuffed out of existence.
World Series flashback: the last time the St. Louis Cardinals were in and won the World Series was 2006 when Missouri was in the midst of a huge debate over a proposed constitutional amendment that would give scientists in the state a right to clone and kill embryos for scientific research. Then, Cardinals pitcher Jeff Suppan appeared alongside other athletes and actors in a television commercial opposing "Amendment 2" and human cloning that aired during game 4 of the series. Shortly after that, Shortstop David Eckstein, the most valuable player of the 06 WS, joined Suppan and others in a similar print ad that ran in newspapers one week before the election. Here is the commercial:
GO CARDS!!