I've become a pretty big IndyCar racing fan over the past few years since my parents started doing some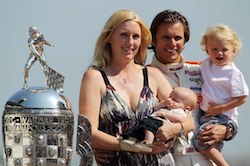 media coverage of it. Needless to say, I was deeply saddened by the death of driver Dan Wheldon following a fiery 15-car crash on the 12th lap of the final race of this year's IndyCar championship series in Las Vegas yesterday. Dan was an incredible driver and most racing fans will remember him for his many accomplishments on the track, including two Indianapolis 500 wins, the most recent win being this year's unforgettable finish, and the points Champion of the Series in 2005. But I think Wheldon would agree that his most important achievements happened off the track when he married his wife Susie and became a father to his sons Sebastian (2 years) and Oliver (6 months).
Say what you want about the wisdom of driving a car at 220 MPH, Wheldon's sudden death at just 33 years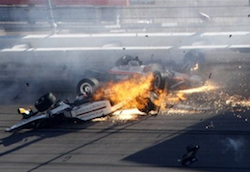 old is a reminder of the shortness of this life and that the end can come at any moment for any one of us. Those of us who fight for the right to life of every human being on this earth must also be joyfully aware that this life, as beautiful as it may be, is not our ultimate end. Though we fight for truth and freedom in our beloved country, it remains but an earthly dwelling place, a temporary homeland where we must prepare ourselves for the greater Home that awaits us (Heb. 13:14):
I know the country I am living in is not really my true fatherland, and there is another I must long for without ceasing. This is not simply a story invented by someone living in the sad country where I am, but it is a reality, for the King of the Fatherland of the bright sun actually came and lived for thirty-three years in the land of darkness.(Story of a Soul, Manuscript C).
Heaven. Resurrection. Eternal Life. What we believe, what we hope for, is not merely some lofty philosophical ideal or the fantasy of uneducated simpletons. It is truth, Divinely revealed and able to be known through human reason (CCC 156-59). Therefore:
Be vigilant at all times
and pray that you have the strength
to escape the tribulations that are imminent
and to stand before the Son of Man. (Lk. 21:36)
So that when your day finally does come you will not be taken by surprise, for
at an hour you do not expect, the Son of Man will come (Mt. 24:44)
Eternal rest grant unto him, O Lord, and let perpetual light shine upon him. May he rest in peace. Holy Mary, Mother of God, pray for us now and at the hour of our death. Amen.
Dan Wheldon, Two Time Indy 500 Winner, Requescat In Pace