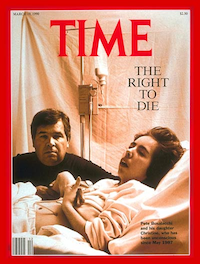 At the National Right to Life Convention I went to several presentations that dealt with euthanasia, assisted suicide, and society's view of people/life with disabilities. It got me thinking about a post I did a while back on the beauty of human weakness, which I sort of re-visited in a post for Creative Minority Report last week:
G. K. Chesterton called suicide the "ultimate and absolute evil" because it is:

the refusal to take an interest in existence; the refusal to take the oath of loyalty to life. The man who kills a man, kills a man. The man who kills himself, kills all men; as far as he is concerned he wipes out the world. (Orthodoxy, ch. 5)

Physician assisted suicide of the terminally ill and disabled is becoming increasingly more commonly accepted in our country. While only two states in the US (OR and WA) have legalized assisted suicide (three, if you count this 2009 MT Supreme Court ruling), the "right to die" movement has launched a successful campaign based on love of comfort and radical self-autonomy.

For the most part people want to be remembered (and want to remember others) for the way they lived their lives. We want to remember only the happy times, when we and our loved ones were well and enjoying all the good things that life had to offer. Since sickness and disability are opposed to this ideal and since death is inevitable for all of us, we should at least have the option of leaving this world before succumbing to physical weakness so that we don't have to endure a long period of pain and suffering if we don't want to, right?