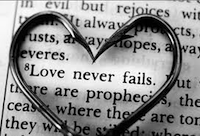 "Authentic love is not a vague sentiment or a blind passion. It is an inner attitude that involves the whole human being. It is looking at others, not to use them but to serve them. Love, in a word, is the gift of self."
– Blessed John Paul II
In today's culture it is considered "loving" for families to end the lives of their loved ones instead of allowing them to suffer and thus to suffer with them. We kill the unborn instead of giving birth to a disabled child, we starve and dehydrate the severely handicapped who are unable to communicate with us, and we hasten the death of the elderly and the terminally ill. All to avoid or eradicate suffering. But is this true love?
See my guest post at Creative Minority Report this week: Suffering, Love and the Paradox of the Cross
Bonus: Check me out on Judie Brown's blog today! It's a re-print of something I posted here a few weeks ago.