"Lawzy, we got to have a doctor. I don't know nothin' 'bout birthin' babies!!"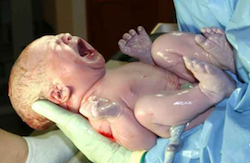 Well, Prissy, sometimes there's just no time to wait for a doctor, so pay attention. The Art of Manliness has a great post on what to do in an emergency delivery situation. It's addressed to husbands of expecting wives, but it's useful information for everyone. I mean, chances are pretty good none of us will ever find ourselves in such a situation, but it's always good to be prepared!! It does happen. The short list:
Don't panic
Assess the situation
Call for help
Get mom comfortable
Scrub up and prepare the birthing area
Watch and guide – don't force
Rub the baby down
Don't cut or tie the cord
Deliver the placenta
Get medical attention ASAP
Do read the AoM post for more details on each. It also helps to have seen childbirth before, so, if you never have, be sure to check out the video they have posted of a cheesy 1966 California State Police Education Film on how to deliver a baby in a pinch. It's a little strange, though, I must admit. The video is obviously scripted/acted, not a documentary, but they definitely somehow got a woman to agree to give birth in the back of a police car and let them film it. How does one time the filming of such a thing? Strange. But still helpful.