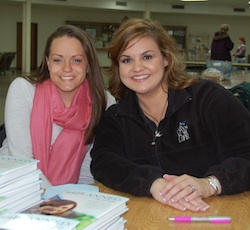 Last week former Planned Parenthood director and now pro-life advocate Abby Johnson was in here in mid-Missouri to give a lesson in sidewalk counseling outside abortion facilities. I got quite a bit of video from it that I'm just now getting uploaded. In this one, Johnson explains why graphic abortion pictures are not very helpful tools – at least not outside the abortion facility. This is an ongoing debate among pro-lifers. If you watch the whole video you'll notice she doesn't say that they're not useful at all, but in front of abortion facilities is probably not the best place in her experience:
Her personal conversion brings an interesting perspective to this debate. As she says in the video, she saw the dead children on a regular basis – in person – at her abortion clinic when she would have to help put together the body parts to make sure nothing was left in the uterus after an abortion. The graphic images on posters were nothing new to her and, as an abortion advocate, she did not think that these children were living human beings to begin with, so seeing their dead (not living) bodies, as sickening as it is to us, did not have much of an impact on her. It wasn't until she saw the ultrasound-guided abortion and saw the life of the child she was helping to kill that her heart was changed.
I've never been much of a fan of using the aborted fetus pictures, but after watching the documentary Unborn in the USA (which is a little biased, but I don't think our side came off too bad in) and seeing some videos from various "Genocide Awareness Project" set ups on college campuses, I see how they can facilitate some good conversation between those on both sides of abortion. And that's never a bad thing.
Over at the Register, Jen Fulwiler has 4 Tips for Using Graphic Abortion Images Effectively