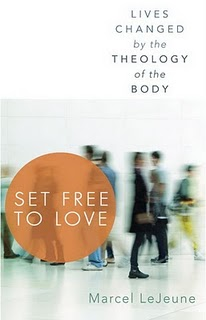 For the average person, the idea of reading about or studying the Theology of the Body can seem like a daunting task, even if they really want to know more about it. If this describes you, Creative Minority Report's Matthew Archibold has a suggestion:
I read Marcel Lejeune's book Set Free to Love and it's great.

I'm an idiot so I tend to stay away from heavy duty theology books but I read this, enjoyed the heck out of it, and I understood everything (I think.) Marcel has a real gift for making grand concepts into easily understandable and relate-able real life stories.

Now, I've seen all the debate and arguments about the Theology of the Body but always stayed out of it because I know there's a lot of stuff I didn't know. Marcel's book is really pretty awesome because it's not only an interesting read it's beautiful to read how TOB changes peoples lives.
Order: Set Free to Love
A similar book: Freedom: 12 Lives Transformed by the Theology of the Body