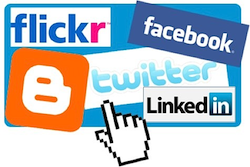 Yesterday morning Family Research Council hosted "ProLifeCon", a conference for the online pro-life community. There were many good talks this year from some of the most well known names in the pro-life movement encouraging and giving tips on the use of social media for communicating the pro-life message. The archived webcast can be viewed here.
Coincidentally (or, perhaps not) that was held on the feast of St. Francis de Sales, the the patron of journalists, and the same morning the Vatican also released the papal message for the 45th World Day of Social Communications which focused specifically on the internet as a network for communication. Though he warned against getting sucked into a purely digital existence and stressed the importance of real-world human relationships, Pope Benedict encouraged the use of online social networking as a tool for evangelization:
As with every other fruit of human ingenuity, the new communications technologies must be placed at the service of the integral good of the individual and of the whole of humanity. If used wisely, they can contribute to the satisfaction of the desire for meaning, truth and unity which remain the most profound aspirations of each human being.

In the digital world, transmitting information increasingly means making it known within a social network where knowledge is shared in the context of personal exchanges.

…

I would like then to invite Christians, confidently and with an informed and responsible creativity, to join the network of relationships which the digital era has made possible. This is not simply to satisfy the desire to be present, but because this network is an integral part of human life. The web is contributing to the development of new and more complex intellectual and spiritual horizons, new forms of shared awareness. In this field too we are called to proclaim our faith that Christ is God, the Saviour of humanity and of history, the one in whom all things find their fulfilment (cf. Eph 1:10). The proclamation of the Gospel requires a communication which is at once respectful and sensitive, which stimulates the heart and moves the conscience; one which reflects the example of the risen Jesus when he joined the disciples on the way to Emmaus (cf. Lk 24:13-35). By his approach to them, his dialogue with them, his way of gently drawing forth what was in their heart, they were led gradually to an understanding of the mystery.
Speaking of social networks: follow me on Twitter and 'like' me on Facebook!