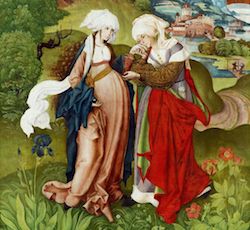 "Most blessed are you among women, and blessed is the fruit of your womb. And how does this happen to me, that the mother of my Lord should come to me? For at the moment the sound of your greeting reached my ears, the infant in my womb leaped for joy. Blessed are you who believed that what was spoken to you by the Lord would be fulfilled." (Lk. 1:42-45)
A few thoughts on today's feast.
First, from my friend Bill Donaghy via Facebook last year:
Two women, pregnant with new life, whose great Yes to God's proposals would literally change the world. And people say the Church is patriarchal? She's matriarchal to the core! Happy Feast of the Visitation!
From a pro-life perspective I am usually caught up in St. John the Baptist's in-utero gymnastics on the feast of the Visitation. Recently, however, I also find myself focusing on Elizabeth greeting Mary as the "mother of my Lord" while she is but a few weeks pregnant.
I was particularly struck by this a while back when a friend of mine announced her first pregnancy on facebook by declaring, "I'm going to be a mom (after the baby is born) in May!" To which I could not help responding, "You already are a mom – right now! That baby is alive inside you and you are already caring for him and mothering him – providing him with the vital nutrients he needs to live and grow and get ready to greet the outside world in nine months."
Mary's role as the Mother of God reveals the dignity and sacredness of motherhood (mothers are so special even God wanted one!) – a role that begins at the moment of life's inception.
That is all 🙂