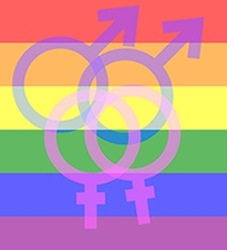 Since Congress is considering repealing Don't Ask Don't Tell this week – possibly by Thursday – I thought this was a good subject for today's TOB Tuesday post. In a column for Catholic Exchange's Theology of the Body Channel, Robert Colquhoun explains the Church's teaching on homosexuality while respecting the sensitivities of those afflicted with same sex attraction:
There has been a very widespread campaign to normalize same sex attraction to pass it off as something normal and natural. The world gives those who experience same sex attraction a stark choice: either stay in the closet or come out and embrace your same sex attraction. What about an alternative to these choices? For Christians who experience same sex attraction, many feel alienated by what their faith tells them about same sex attraction: either they are damned or should experience extreme isolation. In our highly sexualized culture, a life without sex seems unimaginable.

The Catholic Church states that those who experience same sex attraction should be treated with 'respect, compassion and sensitivity.' (CCC2358). John Paul II in his writings talked about the personalistic norm: that the only adequate response to the human person is love. Love desires the best for another person. The Catholic Church is often attacked for its stance on homosexuality because it is seen to be intolerant. However, it is false compassion to condone homosexual acts. The Catechism states, "Homosexual persons are called to chastity. By the virtues of self-mastery that teach them inner freedom, at times by the support of disinterested friendship, by prayer and sacramental grace, they can and should gradually and resolutely approach Christian perfection." (CCC 2359).
Please, do read the rest!
I also encourage you to read this short post from Jenny Senour Uebbing on why the Catholic Church cannot (as opposed to will not) recognize same sex marriage.
It is important to remember that the Catholic Church does not condemn the homosexual person. In fact, she has a very loving ministry to those individuals to help them live the universal call to chastity and holiness. Visit the Courage Apostolate for more information.
Other resources:
–Ascension Press has a new talk from Christopher West: The Case Against "Same-Sex Marriage": Protecting the True Meaning of Marriage
–Catholic Audio blog has audio of a talk by Dr. Janet Smith called Homosexuality: Why Not